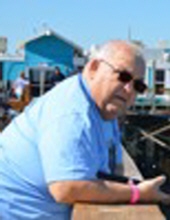 Obituary for Dennis T. Beshada
Dennis Theodore Beshada, 75, passed away Saturday, September 2, 2017, in Appleton, WI. He is survived by his wife, Thelma Jane (Lindsten) of 55 years in March, his children and their spouses: Duanne of Stanton, MI; Terri (David) Manthey of Rineyville, KY; Dallas (Kathy) of Brillion, WI; Tammy (Charley) Wall of Appleton, WI; and Dennise (Tom) VanPutten of Rockford, MI; 25 grandchildren; 1 great-grandchild; his sister, Suzanne Farmer (Barnegat, NJ) and his brother James Beshada (Holmdel, NJ); and beloved pet, Raven. He was preceded in death by his parents; son Timothy L. Beshada; two grandchildren: Timothy D. Beshada and Wyatt T. VanPutten; sister Patricia Moran, and daughter-in-law, Ellen.

Dennis was born January 30, 1942, in South Amboy, NJ, the son of Theodore and Mildred (Bright) Beshada. He grew up in South Amboy, NJ, and met Thelma at Southland Bible Institute, formerly in Pikeville, KY. They were married on March 31, 1962 in South River, New Jersey. They worked in ministry in WV from 1965-1967, before moving to Fond du Lac, where they lived until 1985. Dennis worked at Wells Manufacturing short of 20 years. They lived in Stanton, MI until 2009, before moving to Brillion, WI. Dennis enjoyed spending time with his family and friends, working on automobiles, hunting, and fishing, but most of all he loved his grandchildren.
Events