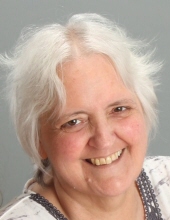 Obituary for Gayla Jean Ross
Ms. Gayla Jean (Taylor) Ross, 57, passed away Sunday afternoon, September 24, 2017, after a five-year battle with Stage Four cancer. The fourth of five children, she was born on May 4, 1960 in Petoskey, MI to the late Herbert L. and Donna Jean (Diot) Taylor. She graduated from Gwinn High School and started a family. Gayla then attended Fox Valley Technical College and graduated in 2005 with a Degree in Database Management. She was later hired by FVTC with the WISC Online program. She enjoyed spending time with her family, being Gaga for her granddaughters, jewelry making, reading, and online games. She was an intelligent and fiercely independent woman; anyone who was lucky enough to have known her quickly became her friend. She had a smile on her face and a mischievous glint in her eye till the very end.
Gayla is survived by her two children and their spouses, Micah and Lisa Ross, Appleton; Emily and Brian Cave, Green Bay; two granddaughters Moira and Keira Ross; four siblings; Gregg and Becky Taylor; Gary Taylor; Glenn and Kye Taylor; and Gwynn Taylor and Bill Schlipp. She was preceded in death by her parents. By her request a private service will be held for the family. In lieu of flowers, the family asks that a donation be made in Gayla's name to the ThedaCare At Home Hospice or Hospice Residence, or the Mayo Clinic Cancer Center. The family thanks these programs that helped Gayla in her journey.